Lesia Rudewych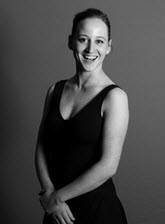 Lesia has been a Verchovyna dance member since early childhood and began passing on her passion and knowledge in 2009 when she first began her role as a Verchovyna instructor teaching across various age groups.
Participating in numerous dance workshops with international dance instructors has helped to develop Lesia as a dancer and performer. She has performed both on local and national stages during her dancing life.
Lesia has held numerous positions of leadership within the Ukrainian community and is an avid supporter and participant; current Ukrainian Youth Association Board of Directors Member in Melbourne as well as a National Executive Member, Victorian Euromaidan Committee Member, former Monash University Ukrainian Studies student embarking on two study trips abroad to Lviv, Ukraine in 2011 and 2012, an election observer for the Ukrainian World Congress in the 2012 Parliamentary Elections in Ukraine.
Lesia's adoration for Ukrainian dance, cultural heritage and community has been steadfast. Currently leading Verchovyna's Artistic Team, Lesia brings to Verchovyna much energy, enthusiasm, determination, creativity and experience.